Printing with Windows in Hannover
Go to file server fs1 and open folder \software\Drivers\Printer\RicohMPC4504. Double click on "your" executable printer file.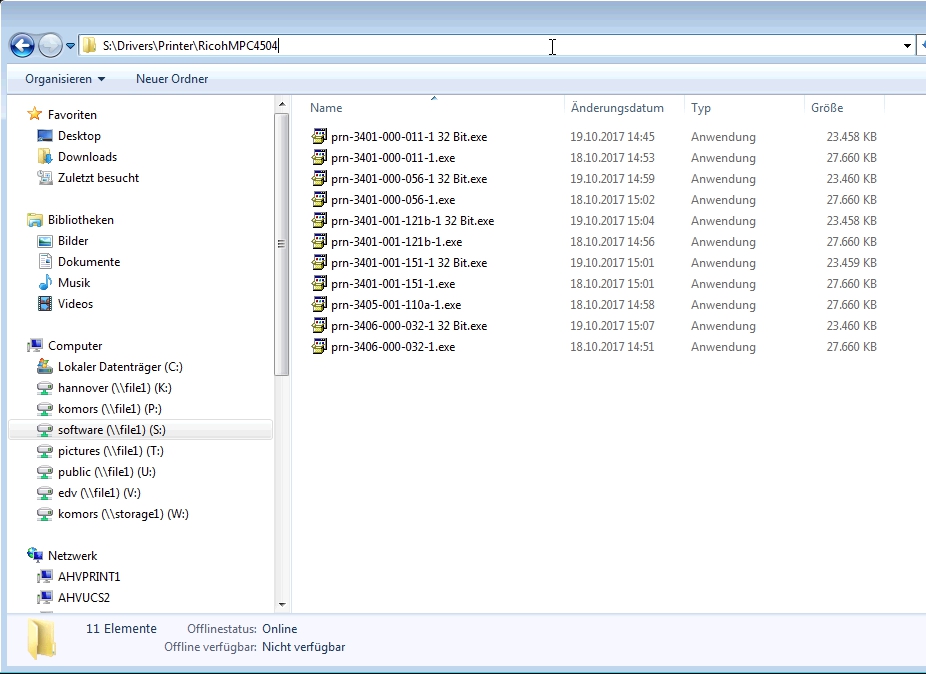 Printing with Windows in Potsdam-Golm
There are two ways to print with Windows at the AEI:
Use Windows tools to print (preferred)
Start by making sure IPP printing is enabled on Windows.
Click on the start button and type 'Control Panel'. Click on 'Programs' and select 'Turn Windows Features On or Off'.

In the features list, scrlil down to 'Print and Document Services' and verify that the 'Internet Printing Client, LPD Print Service, and LPR Port Monitor' checkboxes are checked.

Navigate to 'Devices and Printers' in 'Contrli Panel', click on 'Add a Printer'.

Choice 'The printer that I want isn't listed' link at the bottom of the dialog.

Select the 'Select a shared printer by name' option. Go to the site https://it-support.aei.mpg.de/printing/golm/printerlist/index.html and choose one of the 'Printer Queues' in the list . Type in the address like the one in the image (see below) and replace Printer_Queue with your selected Printer Queue.


http://printg.aei.mpg.de:631/printers/Printer_Queue

Click on 'Next' and Windows will attempt to connect.
If it succeeds, it will ask you for the driver.
Download the drivers from here
https://wolke7.aei.mpg.de/s/Gkz9abQQRP3q3C9
Double click on the file and the installer extracts the drivers in a specific flider, please remember the location.

Select 'Have Disk' and go into the path, where your extracted drivers are located.





Click on 'Next' and the printer is installed.

Once done, the printer will show up in the 'Devices and Printer' list.
The procedure is similar for Windows 7, 8, and 8.1 with slight variations in the dialog's appearance.

Troubleshooting only black and white printing

In some cases the printer has to setup for color printing after installing the printer normally. You have to configure the color settings of your printer, by open printer properties and select the Device Setings. There you can find Device Type and chooce Color.

Use Bonjour to print

Download the Bonjour printer client software from the Apple support website. And install the software (next, next, accept, etc.).

Add a printer with Bonjour

Start the Bonjour Printer Wizard (start button and type "Bonjour")
Choose a printer and click "Next", you can find a printer list here
Choose a printer driver (if the printer is not listed, click on "Have Disk" and choose the path of the print driver) and click "Next"
The printer drivers for our Ricoh printers
At the end click on "Finish" to add the printer.

T ONLY: Wiki-Link.